Fall Sale: Evergreen trees and shrubs 50% off (excluding Boxwood). Perennials 50% off. Grasses, deciduous trees and shrubs 35% off. (No warranty provided on discounted plant material. Excludes trees that are growing for Spring 2024.)
Premium Cedar Mulch: 3 cubic foot bags are back in stock.
The Miller Nursery Difference: Our Quality Plants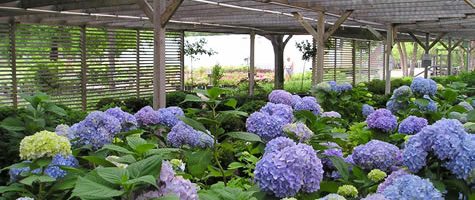 "When quality is the difference you're looking for…"
At Miller Nursery, "quality" isn't a word we use lightly. In fact, quality is the pivotal and defining element of our business, and it all starts with our plants. Please read on to find out what sets our plant material apart. To learn more about each of the specific varieties we carry, please be sure to visit our plant encylopedia
Our Trees
Miller Nursery takes pride in growing 90% of the container trees that we sell. This ensures that our customers receive the highest quality trees in the Des Moines area. We start with northern grown, bare root trees and prune them to develop the best shape and growth habit. We then pot the trees to the correct depth in our special soil-less mix and grow them until the roots reach the sides of the container. This makes our trees more shapely, and they transplant more successfully.
Our Shrubs
Our shrubs come from the best suppliers in the United States. They are all container grown and range in size from #2 containers all the way up to #10 containers in some varieties. During the growing season, we frequently have shipments of new plants arriving. This allows you to order exactly what you need if we don't have it in stock.
Our Perennials
95% of our perennials are grown right here at our nursery. We start with quality, bare root or plug plants and transplant them by hand into their individual containers. After this, we move them to an unheated poly house. This allows the roots of the plants to become well-established before the tops even begin to grow. When the outdoor temperatures are warm enough, we then move the plants out to the sales area (usually around the beginning of May). This process yields a very high quality plant that can sometimes get to full size in the landscape by the end of the first year!